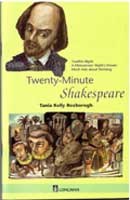 Twenty-Minute Shakespeare
Following the success of Fifteen-Minute Shakespeare (three tragedies), Tania Kelly Roxborogh has selected and abridged three of Shakespeare's most popular comedies -Twelfth Night, A Midsummer Night's Dream and Much Ado About Nothing - for classroom performance.
The aim of these plays is to present a fast-paced version of Shakespeare's originals which will provide a light-hearted introduction to the playwright's work for junior students. It is hoped that they will then be encouraged to go on to study and enjoy the full text at a later stage. For senior students, the plays will afford some additional comic pleasure after the complete texts have been studied in depth.
These abridged versions preserve Shakespeare's own language but are not intended as a substitute for studying the complete work.
Back