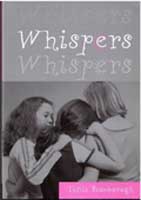 Whispers
"Let's play truth, dare or promise." Shannon
"First we need to promise that whatever we say won't go any further than the five of us." Emily
"No one's going to say anything to anyone, Emily. You're too paranoid." Robyn
"Friendship is about trust. No one's going to want to share anything juicy if we don't promise to keep it a secret." Brittany
'Okay, I'll start." Skye.
An innocent game at a sleep over leads to tears and disappointment as each girls' secret is revealed. Who broke the promise not to tell? Please note that this book is currently out of print.
Back
Back